| | |
| --- | --- |
| SAVE RANI BAGH BOTANICAL GARDEN ACTION COMMITTEE | |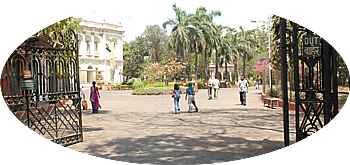 Why was the Save Rani Bagh Botanical Garden Action Committee formed?
Alarmed at the media reports that Jijamata Udyan better known as Rani Bagh will be partially closed down to enable its so-called "transformation into a world class zoo" we, a group of Mumbai citizens and nature lovers, formed a committee to create awareness and oppose the plans of the Brihamumbai Municipal Corporation (BMC) to convert a green haven into a concrete amusement park. Many of us are dedicated conservationists involved with environmental groups as volunteers and resource persons conducting nature trails and a host of nature education programmes.
What is the price tag for this 'modernization'?
Rs. 433.57 crore.
Who has the BMC assigned for this task?
The BMC has signed a contract dated February 12, 2007 with M/s HKS Designer and Consultant International Co. Ltd. (a Thai-based Malaysian corporation). Media reports also indicate the involvement of the Portico Group (US).
What will this modernization entail?
The BMC plans to build an aquarium, a conservation and orientation theatre, a children's exploration centre, expansion of the animal hospital, construction of quarters for veterinary staff, auditorium etc. The first phase reportedly costing 155 crore involves construction of an administrative building, a 3D theatre and a parking lot for 100 vehicles.
Why is the Save Rani Bagh Botanical Garden Action Committee opposed to the construction of various structures and car park?
There is no vacant treeless space in Rani Bagh for any construction activity. We fear that:
after expensive facilities are installed the entry fee will be raised drastically thus depriving common citizens entry to this beautiful haven and

hundreds of trees, shrubs, open lawns and play parks will be sacrificed to make way for construction.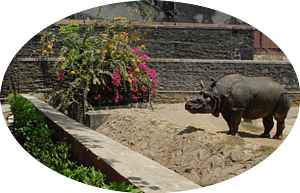 Is Rani Bagh a botanical garden or a zoo?
Rani Bagh is both a botanical garden as well as a zoo. It was established as a botanical garden in 1861 by the then Agro-horticultural Society and later animals were moved in. Apart from approximately 21 species of mammals, 41 species of birds and 10 species of reptiles, Rani Bagh is home to 3,177 trees of 227 species.
Does the Action Committee have any proposals for improving the Botanical Garden?
We exhort the authorities to stress the botanical aspect of Rani Bagh among the visiting public and raise its level to environmentally-accepted international standards. We further request the Municipal Corporation and the Zoo Authority to harness Rani Bagh's vast resources to educate the common public about its rich heritage.
Is the Action Committee planning to take any initiative in this regard?
Yes! We offer our assistance as volunteers:
to chart out and conduct a variety of nature trails in Rani Bagh

to have appropriate labeling and signage for at least 300 prominent trees giving common and scientific names, brief history, uses etc.

to prominently display large Notice Boards in the park with maps indicating the position of at least 25 prominent/age-old/unique/award-winning trees

to conduct surveys of birds, butterflies and mammals (mongoose, rodents, bats, squirrels)

to conduct group programmes showcasing the diversity of flora and fauna

to help gather historical information and publish a compendium of Rani Bagh flora and fauna

What is the size of Rani Bagh?
53 acres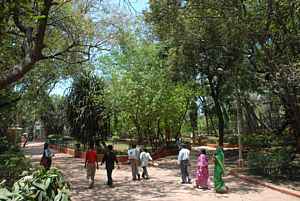 How many people visit Rani Bagh?
Rani Bagh attracts an average of 8,000 common citizens daily going up to 30,000 per day during vacation time making it one of the most visited parks the world over. It has been an integral and beloved part of most Mumbaikars' growing years.
Is the current entry fee affordable?
Yes. At present the entry fee is an affordable Rs. 5 per adult and Rs. 2 per child. School children (group visits) pay a mere Rs. 1 per head; Senior citizens and Municipal school children (group visits) have free entry.
Why does the Action Committee feel that the post-modernization entry fee will bar access to common citizens?
The BMC has so far not come out with any figures regarding an entry fee hike and it is one of the demands of the Action Committee that the BMC disclose this information publicly. We strongly feel that after expensive facilities are installed the entry tariff is bound to rise both to recover capital cost as well as for running expenses.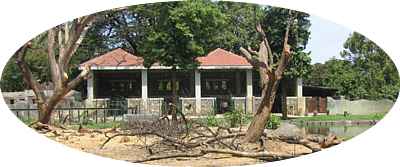 Is there a history of trees being felled in Rani Bagh?
Over the past few years when the zoo authorities have constructed moat-encircled, cage-less enclosures for animals several trees have been cut down.
Is the Save Rani Bagh Action Committee only concerned about trees and not animals?
No! As animal loving citizens we welcome every effort to house animals in appropriate enclosures and provide them with greater stimulation to improve their unnatural existence. However, we feel that it is of grave importance to ensure that this should not be done at the cost of the trees or green verdure of the park.
Why are the trees and greenery in Rani Bagh so important?
The 53 acres of verdant tree cover of Rani Bagh makes it a vital green lung for the city. Nearly 150 years old this precious nature heritage site is a beloved public space for Mumbai's citizens who are deprived of green open vistas. Doongerwadi or the Parsi Towers of Silence is the only other large expanse with a thick tree cover in the island city and being owned by a trust is out of bounds for the public.
What sort of trees do you find in Rani Bagh?
Rani Bagh is a tree lovers' paradise. Trees grow to heights and spreads seldom seen in Mumbai. The diversity of species, both indigenous and exotic, can be gauged from the fact that of the 280 species found in Mumbai, 227 species are found at this one location alone! Hundreds of these are majestic centenarians. Many of South Mumbai's most ancient Baobaabs, Banyans, palms, tamans, chilbils, shivans, cajuputs, kusums, sita ashoks, arjuns and teevars, to name just a handful, present a breathtaking sight. For a detailed list of trees please refer to the 'Botanical Wealth' link.
What sort of other plant diversity is found in Rani Bagh?
In addition to the trees there are thousands of shrubs, flowering plants and climbers and several well-maintained lawns where children can play and adults can relax.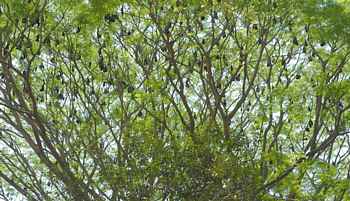 Is Rani Bagh a habitat for other creatures that live in the open?
The verdant tree cover is home to the flying fox, the fruit bat, the wild roaming Golden Oriole, Red-vented bulbul, white throated Fantail, Magpie Robin, Night Heron as well as the Greater Coucal and Paradise Flycatcher, to name but a few. Cutting down of trees and concretizing open green spaces will lead to habitat destruction for hundreds of creatures including birds, bats, squirrels, and a panorama of insect life.
Is tree felling due to construction activity the only ecological danger posed by large-scale construction activity?
No! The internal open green enclosures and shrubbery are of vital importance as they provide much-needed space for adults to relax and children to play. Further, Rani Bagh with its considerable soil cover provides a large soak basin during the monsoons. Every Mumbai citizen is aware that monsoon flooding is increasing because of rampant concretization. Byculla being a low lying area will suffer from increased water logging during monsoons if large tracts of the 53 acre Rani Bagh are concretized.
Even though there is no current announcement on trees slated for felling why is the Action Committee raising the issue?
There are two reasons for this:
In the past trees have been felled to make way for construction of moats etc. and we wish to draw public attention in order to prevent future tree felling.

Indiscriminate permissions have been granted for tree felling in Mumbai and suburbs by the BMC's Tree Authority (located within the Rani Bagh complex itself) for any type of construction activity be it roads, bridges, housing etc.
Why is the Save Rani Bagh Action Committee asking for an Environment Impact Assessment study and public hearing?
Rani Bagh is a botanical garden and a zoo and therefore any large scale construction activity needs an Environment Impact Assessment clearance preceded by a public hearing where citizens can be heard. As a precious green lung and accessible public space for the city its green cover is a matter of overall public concern.
Is the Action Committee opposed to a foreign company being given the contract for modernization?
We feel that any improvement can easily be undertaken by the BMC itself in consultation with local environmental groups who are familiar with Indian surroundings, flora and fauna and that precious public funds (Rs. 433 crore) could thus be saved and utilized for conservation rather than be channeled to foreign corporations to build glamorous concrete structures.
Why is the Action Committee opposed to partial or temporary closure of the zoo?
There are two reasons for this:
This is one of the very few open green spaces available to citizens in Mumbai and they should have access to it.

The office of the Tree Authority that grants permission to fell trees in Mumbai is located within the Rani Bagh campus and the Committee is afraid that tree felling may become an in-house affair with the public learning of tree clearance only after the event.
In a nutshell what are the Action Committee's demands?
The following are our demands:
that there be no upward entry fee revision which will automatically restrict entry of common citizens

that under no circumstances any trees be cut down in the botanical garden of Rani Bagh even under the pretext of "transplantation"

that all detailed Master Plans and the requisite permission of the Central Zoo Authority for the proposed overhaul be made public

that an Environment Impact Study and public hearing precede any action on the part of the BMC

that Rani Bagh be declared as an A Grade Nature Heritage precinct both from the point of view of its botanical and historical significance

that under no circumstances Rani Bagh be closed down even partially or temporarily
What does the Save Rani Bagh Action Committee propose to do?
Mass circulation of a petition to the Municipal Commissioner, and Superintendent of Gardens, Mumbai through various e-groups, newspapers and magazines

Using our website a) to give information on the botanical and heritage aspect of Rani Bagh through photographs and write-ups b) to post information about our action plans and programs and c) to create a forum where common citizens can post their views on the issue
How can I help?
We appeal to you to sign and circulate the petition by going to the 'Sign Petition' link and to contact us and join us in creating awareness through various e-groups, media and direct contact programmes
If you have contacts in schools, colleges or work places, we will gladly conduct talks and slide shows to create awareness about the 53-acre botanical paradise of Rani Bagh and garner support to oppose any move to fell trees and make entry expensive.
Contact us. Join us in our efforts!